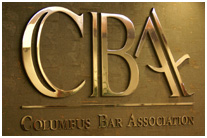 The Columbus Bar Association is a diverse community of nearly 5,000 central Ohio legal professionals. Founded in 1869, the association is led by a Board of Governors consisting of 11 members, three Officers, and the Executive Director. Through the active involvement of our broad and diverse membership, the Columbus Bar delivers innovative and cost-effective services to members of the legal profession and to the general public.
Services for the Public
The Columbus Bar Association provides resources and information for the citizens of central Ohio, including free services for finding a local attorney, resources for pro bono assistance, basic facts about Ohio laws, information for those called to jury duty in Franklin County, and more. We also provide Notary Public services for the state of Ohio. Visit our website for information about these and other services provided by the Columbus Bar.
Visit the Columbus Bar Association website