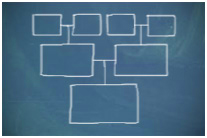 Overview of courts in Franklin County, Ohio
Click here to download a brochure that provides an overview of all the courts in Franklin County, and how many judges you elect for each court.
What types of cases do Ohio's county courts handle?
Every Ohio county has a Court of Common Pleas, which is the court of first instance for felonies and certain high-value civil cases. In many counties there are also Municipal Courts which operate in a defined territory and handle traffic offenses and misdemeanor criminal cases and smaller civil matters. In Franklin County, the Municipal Court has an Environmental Division which handles violations of local housing, building, fire, zoning, health, waste collection, animal licensing, animal abuse, and pollution codes.

In counties with large populations (such as Franklin County), the jurisdiction of the Common Pleas Court may be divided into several specific departments, including a Probate Court (which handles wills, adoptions, and issues marriage licenses), a Juvenile Court, or a Domestic Relations Court. In Franklin County, the Court of Common Pleas is divided into two departments: the General Division and the Juvenile/Domestic Relations division. Franklin County also has a separate Probate Court.
How are judges selected in Ohio?
In Ohio, judges are currently elected by the voters. Judges in Ohio serve six-year terms and are elected in a partisan primary, followed by a non-partisan general election. This means that judges do not have a party label next to their names on the ballot. Common Pleas Court judges are elected in even-numbered years, Municipal Court judges in odd-numbered years.
Ohio's judicial elections are non-partisan
Due to the non-partisan nature of a judge's role, Ohio law does not permit the identification of political party on the ballot for judicial candidates.