Candidate Profiles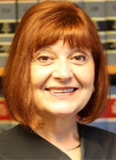 Cynthia Morehart

Candidate for:
Franklin County Municipal Court
Undergraduate Education:
B.A. in Art Education from The Ohio State University (1976)
Legal Education:
Juris Doctor, Capital Law School (1995), Cum Laude and Order of the Curia
Legal Experience:

Franklin County Municipal Court Judge (2015-Present)
Franklin County Juvenile Court Magistrate (2002-2015)
Senior Assistant Prosecutor- Juvenile Division of the Franklin County Prosecutor's Office (1995-2002)
Columbus City Attorney Assistant Prosecutor (1992-1995)
Candidate Statement:
(In response to the question, "Please explain why you believe you are qualified for the judicial position for which you are seeking election.")
I have an enormous amount of experience as a trial attorney, Magistrate and now as Judge. But experience is not measured by the raw number of cases handled. Experience is what you learn from those cases. Because of what I have learned, I believe I have developed an excellent grasp of the law and rules of evidence. I have handled extraordinarily large caseloads effectively and efficiently. Further, I have handled many cases with high media interest and cases that have been emotionally charged for all parties involved. Additionally, I believe I have developed the attitude and demeanor appropriate for a member of the Judiciary.
Columbus Bar Association
2017 Judiciary Committee Finding:
Highly Recommended

Columbus Bar Association
Judicial Poll Results:
2017 Judicial Preference Poll
2015 Judicial Preference Poll
Running Against:
Sean McCarthy