Candidate Profiles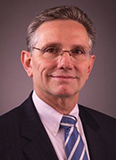 George W. Leach

Candidate for:
Franklin County Common Pleas Court, Domestic Relations/Juvenile Division
Undergraduate Education:
1983, University of Akron, Bachelor of Political Science; 1995, Ohio Dominican University (College) - K-8 Elementary Teaching Certification
Legal Education:
1998-2000 Western Michigan Law School (formerly known as Thomas M. Cooley)
Legal Experience:

2001-Present: Private Practice - George W. Leach Law Offices LLC - Adult and Juvenile Criminal Defense (City, State and Federal) Court Appointed and Private Practice
2000-2004: Bankruptcy, Divorce and Domestic Relations and Family Law Consultant for the Ohio Department of Education (ODC) Special accommodations review
Candidate Statement:
(In response to the question, "Please explain why you believe you are qualified for the judicial position for which you are seeking election.")
I have been in private practice for nearly for nearly twenty (20) years representing the participants of litigation and criminal cases daily in Franklin and surrounding counties within the Federal, State, and Municipal courts. I have had a dozen or so jury trials and numerous bench trials.

I am approved for appointment in all cases except death penalty. I have represented each of my clients to the best of my abilities and consistent with the Model Rules governing my profession. As a veteran of the defense bar, I have spent years convincing Judges and Magistrates in Juvenile and adult courts that there are viable options outside prison or DYS commitment sentences.
Columbus Bar Association
2020 Judiciary Committee Finding:
Recommended

Columbus Bar Association Judicial Poll Results:
2020 Judicial Preference Poll
Running Against:
Hon. Dana Preisse