Candidate Profiles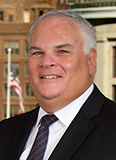 Michael C. Mentel

Candidate for:
Tenth District Court of Appeals
Undergraduate Education:
Bachelor of Arts, Capital University, Bexley, Ohio (1984)
Legal Education:
Juris Doctor, Capital University School of Law, Columbus Ohio (1987); Trinity College, Dublin, Ireland (University of San Diego) summer semester 1985
Legal Experience:
Presently I am a partner with the law firm of Taft, Stettinius & Hollister, LLP concentrating my practice in the areas of energy law, environmental, and governmental regulation. For the past 30 years this has been my area of concentration. I have also litigated, served as co-counsel, and as second chair, both as plaintiff and defense counsel, on environmental and toxic tort cases during this period of time. I have served as Chief Legal Officer to the largest public landfill in Ohio and as general counsel to two engineering and consulting companies with offices located in multiple states. As Chief Legal Officer and as corporate general counsel I oversaw all aspects of governmental requirements, corporate legal affairs, managed all outside litigation, policy development, and the negotiation of public and private contracts.

In addition to practicing law full time, I served three terms as a member of Columbus City Council from 1999 to 2011. I also served as President during my last term in office. Being a part of a seven-member voting body, that may or may not agree with each other at any given time on a vote, places a high level of importance on collegiality with fellow Councilmembers and the exercise of temperament when dealing with the public to which one serves.

Before entering private practice, I was a staff attorney at the Ohio EPA. Later, I would become the supervising attorney for the Division of Emergency and Remedial Response. In both positions I negotiated complex remediation orders for the cleanup and removal of hazardous substances at sites throughout Ohio and worked with the U.S. EPA on contaminated sites that fell within "Superfund" criteria, and advised on administrative search warrants and investigations. I was also part of the team that drafted the original Voluntary Action Program legislation in Ohio

Prior to joining the Ohio EPA, I was a public defender. I began as a law clerk during my second year of law school and later as an intern until my graduation. After graduating and passing the bar I became a public defender serving in the Municipal Division. I was responsible for representing indigent clients during arraignment, pre-trial appearances, motion hearings, trial, probation revocation hearings, and setting aside warrants (being ordered in by the court) for failure to appear.
Candidate Statement:
(In response to the question, "Please explain why you believe you are qualified for the judicial position for which you are seeking election.")
My 31 years of practicing law have prepared me to serve on the Tenth District Court of Appeals. In that time, I have acquired the necessary experience and knowledge and have exemplified the necessary temperament to serve on the Court. I am the only candidate for this seat that brings almost 12 years of experience of working with a diverse, deliberative, decision-making body. This is in direct contrast to others who may only have experience of making autonomous decisions. Treating colleagues with collegiality, being courteous and respectful to those whom I served with, as well as those who appeared before me, being decisive, fair and treating all with equality is how I held myself during my three terms on the Columbus City Council and throughout my career of 31 years. This is what I bring with me if elected to the Court.

My practice has encompassed serving as a public defender, as a staff attorney and supervising attorney to the Ohio EPA, as Chief Legal Officer to Ohio's largest solid waste authority, as corporate general counsel, as a three-term elected official, and as an attorney in private practice. Each of these opportunities has allowed me to obtain a level of experience and knowledge that I can bring immediately to the court especially in the areas of energy and environmental law. The role and responsibility of a Court of Appeals judge is to apply the law to the facts of the case being presented to reach a fair and just decision. My knowledge, experience and demonstrated temperament over my 31 plus years of practice will allow me to do just that.
Columbus Bar Association
2020 Judiciary Committee Finding:
Recommended

Columbus Bar Association Judicial Poll Results:
2020 Judicial Preference Poll
Running Against:
Hon. Colleen O'Donnell