Candidate Profiles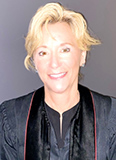 Judge Dana Preisse

Candidate for:
Franklin County Common Pleas Court, Domestic Relations/Juvenile Division
Undergraduate Education:
The Ohio State University - BA in Journalism 1982
Legal Education:
Capital University Law School - JD 1985
Legal Experience:

Judge, Franklin County Common Pleas Court, Domestic Relations and Juvenile Division - 1997 to present
Earl Warburton Adams & Davis - 1987-1997
Paxton & Associates - 1985-1987
Candidate Statement:
(In response to the question, "Please explain why you believe you are qualified for the judicial position for which you are seeking election.")
I am running for re-election because I know experience matters. Having more than two decades of experience and hearing more than 50,000 domestic relations custody cases and 7,500 domestic violence cases, I know the emotional and financial impact the breakup of a marriage or partnership can cause. I also know how to work with the thousands of diverse legal professionals who are part of our Bar and have proven my ability to make a lasting impact in our legal community. I would be honored to be re-elected to a fifth term and am asking for your vote this November.

During my tenure, I have served terms as Administrative Judge and Lead Juvenile Judge of our court. I have treated people who appear in my court room fairly regardless of race, gender, age, economic status, or country of origin.

The attorneys who practice in our court have for 24 years consistently rated me among the top judges in the County in the CBA judicial performance poll. I am humbled and honored that they have done so and proud that my "temperament" rating has remained among the highest.

I also have deep experience in helping to reduce the number of delinquent youth detained in our community by launching innovative programs and community-based services.

In 2002, I established the first drug court in Franklin County: Family Recovery Court for substance-dependent parents who have lost or are at-risk of losing custody of their children to the state. More recently, the Juvenile Recovery Court for juvenile offenders who have been adversely affected by drugs and alcohol, was created. Both recovery courts are certified by the Supreme Court of Ohio.

I am President of the Ohio Association of Domestic Relations Judges and have Co-chaired the Ohio Association of Juvenile Judges where I have had the privilege of giving input on pending legislation that directly impacts families throughout Ohio. I live by example when it comes to Judicial participation in the community; I am on the board of directors for The Center for Safety and Healing At Nationwide Children's Hospital and a member of the Women's Board for The Franklin Park Conservatory and Botanical Gardens. I also have participated in the Upper Arlington High School Career Exploration program and served on the board of directors for Traynor Halfway House for 14 years.

Experience matters in this business because our litigants look to us to give them guidance and they make decisions based on actuality, not approximations. It is also my experience that drives me to innovate and continue to find solutions that positively impact our community and the people who live in it. As a member of the CBA and colleague of the diverse members that make up this wonderful organization, I would be honored to continue to serve as your Domestic Relations and Juvenile Judge for another term.
Columbus Bar Association
2020 Judiciary Committee Finding:
Highly Recommended

Columbus Bar Association Judicial Poll Results:
2020 Judicial Preference Poll
2020 Judicial Performance Poll
Running Against:
George W. Leach