Candidate Profiles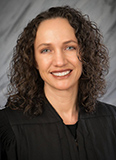 Judge Jenifer French

Candidate for:
Franklin County Common Pleas Court, General Division
Undergraduate Education:
The Ohio State University, BA, Criminal Justice
Legal Education:
Thomas Jefferson School of Law, San Diego, CA, Cum Laude
Legal Experience:

Judge, Franklin County Court of Common Pleas (2015-present)
Attorney, Lane Alton (2007-2015)
Attorney, Wayne Thomas and Associates, San Diego (2001-2004)
Candidate Statement:
(In response to the question, "Please explain why you believe you are qualified for the judicial position for which you are seeking election.")
I have been on the Franklin County Court of Common Pleas bench for almost six years. With the help of my bailiff, staff attorney and administrative assistant (my team), I run an effective and efficient courtroom. It is my goal every day to be accessible and to make sure that those coming in front of me, both litigants and lawyers, know that they are heard and treated fairly. I work very hard to ensure that I am worthy of the enormous privilege and responsibility that I have been given to work as a public servant in my current capacity.
Columbus Bar Association
2020 Judiciary Committee Finding:
Highly Recommended

Columbus Bar Association Judicial Poll Results:
2020 Judicial Preference Poll
2020 Judicial Performance Poll
Running Against:
Andy Miller