Candidate Profiles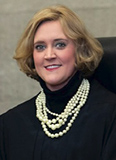 Colleen O'Donnell

Candidate for:
Franklin County Common Pleas Court, General Division
Undergraduate Education:
B.A., Political Science, Miami University (OH)
Legal Education:
J.D., Case Western Reserve University School of Law
Legal Experience:
I have served on the Franklin County Common Pleas Court, General Division since 2013. In that time, I have presided over more than one hundred jury trials, and I work aggressively to resolve cases on my docket.

Previously, I served a law clerk to the Honorable Judge Sara Lioi of the United States District Court for the Northern District of Ohio. I also served in the Ohio Attorney General 's Office as an Assistant Attorney General in the Consumer Protection Section. Immediately before joining the Court, I worked in private practice with the law firm of Carpenter Lipps & Leland LLP.

Additionally, I serve on the Ohio Supreme Court's Commission on the Certification of Attorneys as Specialists, and on the Common Pleas Court's Personnel; Technology; and Finance Committees.
Candidate Statement:
(In response to the question, "Please explain why you believe you are qualified for the judicial position for which you are seeking election.")
I am committed to public service in the judiciary. In serving as a Common Pleas Court Judge for more than nine years, I have developed and sharpened skills enabling me to assess witness credibility, carefully consider and analyze evidence admissibility, and efficiently adjudicate matters in a variety of case types. My judicial experience will be an invaluable asset to me if I am fortunate enough to continue my service on this busy trial court.
Columbus Bar Association
2022 Judiciary Committee Finding:
5 stars (what does this mean?)

Columbus Bar Association Judicial Poll Results:
2022 Judicial Performance Poll
2022 Judicial Preference Poll
Running Against:
Andria C. Noble