Candidate Profiles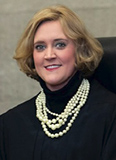 Judge Colleen O'Donnell

Candidate for:
Tenth District Court of Appeals
Undergraduate Education:
B.A., Political Science, Miami University (OH)
Legal Education:
J.D., Case Western Reserve University School of Law
Legal Experience:
I have served on the Franklin County Common Pleas Court, General Division since 2013. In that time, I have presided over approximately one hundred jury trials, and I work aggressively to resolve cases on my docket.

Previously, I served a law clerk to the Honorable Judge Sara Lioi of the United States District Court for the Northern District of Ohio. I also served in the Ohio Attorney General's Office as an Assistant Attorney General in the Consumer Protection Section. Immediately before joining the Court, I worked in private practice with the law firm of Carpenter Lipps & Leland LLP.

Additionally, I serve on the Ohio Supreme Court's Commission on the Certification of Attorneys as Specialists, and on the Common Pleas Court's Personnel and Finance Committees.
Candidate Statement:
(In response to the question, "Please explain why you believe you are qualified for the judicial position for which you are seeking election.")
The Tenth District Court of Appeals is an important court. It not only serves as the reviewing court for all trial courts in Franklin County, but also for numerous State Boards, Commissions, and Agencies.

This election is about judicial experience. In serving as a Common Pleas Court Judge for more than seven years, I have developed skills to enable me to assess witness credibility, carefully consider and analyze evidence admissibility, and adjudicate matters in a variety of case types. My judicial experience will be an invaluable asset to me if I am fortunate enough to serve on the appellate court, and will assist me in reaching case outcomes to ensure justice is administered.
Columbus Bar Association
2020 Judiciary Committee Finding:
Highly Recommended

Columbus Bar Association Judicial Poll Results:
2020 Judicial Preference Poll
2020 Judicial Performance Poll
Running Against:
Michael C. Mentel