Candidate Profiles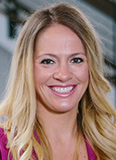 Jessica Barwell

Candidate for:
Franklin County Common Pleas Court, Domestic Relations/Juvenile Division
Undergraduate Education:
Jessica graduated from Long Island University in 2008 with a B.A.
Legal Education:
Jessica graduated from Thomas M. Cooley Law School with a J.D., cum laude, in 2012.
Legal Experience:
Jessica is corporate counsel for Columbus Hospitality Management since 2012, the year she graduated from law school, and has worked in private practice since 2015, specializing in corporate litigation. Jessica is licensed to practice law in the State of Ohio and the United States District Court for the Southern District of Ohio.
Candidate Statement:
(In response to the question, "Please explain why you believe you are qualified for the judicial position for which you are seeking election.")
The reason I am qualified is that I will bring a proper judicial temperament and a quick learning ability. When I was appointed as corporate counsel for Columbus Hospitality, a company with over a thousand employees, I was tasked with starting a legal department from scratch. (The company only used outside counsel before.). I had to learn everything from contract, employment, construction, commerce and other areas of the law, which demonstrate that I am a quick study. Others will tell you that my reputation is one of fairness, compassion, and common sense. I have been able to apply legal rules and procedures to different facts and circumstances quickly and efficiently. I have often had to reduce overall legal conflicts within the organization but did so with firmness and understanding. I believe my personal and professional ethics stand out amongst my peers and fellow practitioners.
Columbus Bar Association
2018 Judiciary Committee Finding:
Declined to Screen

Columbus Bar Association
Judicial Poll Results:
2018 Judicial Preference Poll
Running Against:
James W. Brown