Candidate Profiles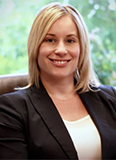 Laura Nesbitt

Candidate for:
Franklin County Municipal Court
Undergraduate Education:
Xavier University, Bachelor of Science, Cincinnati, OH, June 2004; Major: Psychology; Minor: Criminal Justice, Graduated with Honors; Dean's List; Psi Chi Honor Society
Legal Education:

Capital University Law School, Juris Doctor, Columbus, OH, May 2007; Concentration in Alternative Dispute Resolution; Pro Bono Certificate; Dean's List
William and Mary Law School, Study Abroad, Madrid, Spain, July 2005
Legal Experience:

The Nesbitt Law Firm, LLC: Managing Attorney, July 2013-Present
Council Law Group, PLLC: Partner, June 2020-Present
Jump Legal Group, LLC: Senior Associate Attorney, April 2009-July 2013
Nesbitt Law Offices, LLC: Managing Attorney, October 2008-December 2009
Candidate Statement:
(In response to the question, "Please explain why you believe you are qualified for the judicial position for which you are seeking election.")
It would be an honor and a great responsibility to become a Franklin County Municipal Court Judge. My legal career started in the Municipal Court fifteen years ago, taking on cases with a legal intern's license through Capital University Law School. After becoming licensed as an attorney, I took court appointment work, sat to observe the other attorneys on trial days, and learned the system used by the clerks, bailiffs, and judges at the Municipal Court.

I not only have criminal law experience but also civil law experience and have tried each type of case to a verdict. I have a great appreciation for the individual circumstances that lead a person to seek help from or come under the disciplinary jurisdiction of our courts. In my practice as an attorney, I truly seek to understand my clients to best represent and assist them. I believe the same attention to the individual parties appearing before the court is necessary to carry out the obligations of the bench and I will seek to do so faithfully if elected.

Based on this experience, I feel I would be respected on the bench and able to capably serve as a fair and impartial judge for the citizens of Franklin County.
Columbus Bar Association
2021 Judiciary Committee Finding:
3 stars (what does this mean?)

Columbus Bar Association Judicial Poll Results:
2021 Judicial Preference Poll
Running Against:
Mary Kay Fenlon