Candidate Profiles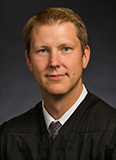 Judge Chris Brown

Candidate for:
Franklin County Common Pleas Court, General Division
Undergraduate Education:
Ohio State University, B.A., Political Science, 2002
Legal Education:
Capital University Law School, J.D., 2005
Legal Experience:

2015-Present: Franklin County Court of Common Pleas, General Division
2012-2015: J. Scott Weisman Law Offices, Managing Attorney
2006-2012: Franklin County Prosecutor's Office, Assistant Prosecuting Attorney
Candidate Statement:
(In response to the question, "Please explain why you believe you are qualified for the judicial position for which you are seeking election.")
My experience as a judge, prosecutor, and defense attorney gives me a unique, diverse background, which allows me to be a truly independent jurist. Although my litigation experience dealt with criminal cases, I believe my extensive trial experience has translated easily to the many civil jury trials I have presided over as judge.
Columbus Bar Association
2020 Judiciary Committee Finding:
Highly Recommended

Columbus Bar Association Judicial Poll Results:
2020 Judicial Preference Poll
2020 Judicial Performance Poll
Running Against:
Michael E. Carleton