Candidate Profiles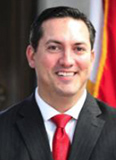 Josh Brown

Candidate for:
Franklin County Municipal Court
Undergraduate Education:
U.S. Army Chemical School, Diploma
Palm Beach State College, Associates of Arts
The Ohio State University, Bachelor of Arts, Political Science

Legal Education:
University of Toledo, College of Law, Juris Doctor
Legal Experience:

Sole Practitioner, 2013-Present
Graff & McGovern LPA, 2018-2019
Candidate Statement:
(In response to the question, "Please explain why you believe you are qualified for the judicial position for which you are seeking election.")
I have a successful record of serving clients in my private practice. My law firm has 101 reviews on Google, all of which are 5 of 5 stars. The reviews are very positive and speak for themselves.
I have represented clients in multiple court proceedings, including administrative hearings, trials, and appeals.
I have extensive policy experience, having worked at the Ohio General Assembly and represented two major trade associations.
I have the humility, ability, and desire to put in the challenging work to become a dedicated public servant.
Outside my legal practice, I have extensive experience in leadership and administration.
Columbus Bar Association
2021 Judiciary Committee Finding:
Declined to screen

Columbus Bar Association Judicial Poll Results:
2021 Judicial Preference Poll
Running Against:
Jim O'Grady