Candidate Profiles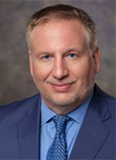 Bill Hedrick

Candidate for:
Franklin County Municipal Court
Undergraduate Education:

Vincennes University - Associates degree in Business Administration 1984
Purdue University - Bachelor of Arts in Education 1987
Indiana University - Master of Library Science 1989
Purdue University - Master of Arts in American History 1992
Legal Education:
The Ohio State University College of Law Juris Doctor 1996
Legal Experience:
25 years of practice with the Columbus City Attorney's Office. Legal Positions held: Assistant City Prosecutor, Environmental Prosecutor, Director of Intake, Principal Attorney for Community Resolutions, Deputy Chief Prosecutor, Chief of Staff, Chief Prosecutor, Lead Senior Prosecutor.
Candidate Statement:
(In response to the question, "Please explain why you believe you are qualified for the judicial position for which you are seeking election.")
I have 25 years experience working in the Franklin County Municipal Court. I have handled tens of thousands of cases and was selected in 2004 as one of Columbus' Top Lawyers as voted by their peers in Business First Magazine. I received the Mayor's Award for Excellence for Outstanding Service in 2013 and was also awarded the Models of Justice Prosecutor of the Year in 2014 from the Justice League of Ohio. Becoming judge would be a culmination of a life time of public service.
Columbus Bar Association
2021 Judiciary Committee Finding:
5 stars (what does this mean?)

Columbus Bar Association Judicial Poll Results:
2021 Judicial Preference Poll
Running Against:
Will Ireland