Candidate Profiles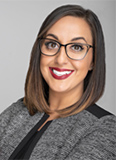 Rena Shak

Candidate for:
Franklin County Municipal Court
Undergraduate Education:
The Ohio State University
Legal Education:
Capital University Law School
Legal Experience:
Franklin County Public Defender Office, Office of the Ohio Public Defender
Candidate Statement:
(In response to the question, "Please explain why you believe you are qualified for the judicial position for which you are seeking election.")
I am qualified to be a judge in the Franklin County Municipal Court for multiple reasons.

First and foremost, the position of Franklin County Municipal Court Judge is an office that embodies true public service. To truly be a good judge, someone has to be passionate about serving the needs and protecting the rights of every member of our communities, not just during election season. As a career public defender, I have dedicated my professional life to doing just that and in my personal life, I have always dedicated time to volunteering and community outreach.

I spend my days representing our most vulnerable and underserved communities on the worst days of their lives. Most often, along with representing them in their legal matters, I am spending time with my clients to help link them with addiction treatment services, mental health counseling or crisis care, employment, housing, clothing, education, transportation, etc. Without access to these critical resources, we often see the same individuals cycling through the courts. My goal is always to stabilize my clients with whatever resources they might need so that we can prevent that cycle. I know the needs of the most underserved of our communities, and I have dedicated my career to helping well over a thousand clients access those resources. I approach my job not just as a job, but with a genuine servant heart.

Second, I am qualified because I have the experience needed to handle the most sensitive and complex of legal cases. I have spent almost a decade working in at least one of the Franklin County courthouses daily, spending two years specifically in the Municipal Court. I have represented clients charged with everything from traffic offenses to aggravated murder. I have conducted trials and motion hearings on both misdemeanors and felonies. I have also worked with all of the municipal specialty dockets- the veteran, drug, CATCH, and mental health courts- and have worked to place clients in each. I have worked closely with the probation department, and am in the jails multiple times a month visiting clients. In order to be a successful judge, you need to have experience working with all aspects of the court. You need to know what the jail is like for incarcerated individuals if you are going to sentence people to jail. You need to know the nuances of the probation departments if you are going to sentence people to probation. You need to have worked with both victims and defendants. You need to have experience investigating a case from the ground up. I have spent my career building that experience and truly believe that the perspective I bring as a public defender is necessary to add to the bench.

Third, I am more than experienced in protecting the rights of every individual in the courtroom. I have spent my entire career making sure that the constitutional rights of my clients are protected and I have worked tirelessly to create equity in the courtroom. Defense attorneys are often the only ones in the courtroom who are trained to be hyper aware of the rights of those involved in a case, as it is our job to protect those rights and motion to the courts if those rights are being violated. That awareness would transfer seamlessly to the bench, as I would automatically be aware of the rights of each individual involved regardless of their position in the case (defendant, victim, prosecutor, defendant, witness, or civil litigant). I know that those passions and skills would be amplified if I were on the bench, making sure that every single person in my courtroom has a fair opportunity at justice and being heard.

Fourth, I understand the logistics of how our municipal court works. Franklin County Municipal Court carries one of the heaviest dockets in the nation, which requires a certain mix of judicial temperament and efficiency to make sure that all parties are being treated with fairness, dignity, and respect, but also to make sure that cases are moving along in an efficient manner and resources are not being wasted. The two years that I spent learning about the municipal court and its functions, as well as my knowledge of all of the multiple agencies that work with the court will serve me well in being able to navigate a heavy docket with fairness, ease, and efficiency.

For these reasons, I am qualified to serve as a Franklin County Municipal Court Judge.
Columbus Bar Association
2021 Judiciary Committee Finding:
4 stars (what does this mean?)

Columbus Bar Association Judicial Poll Results:
2021 Judicial Preference Poll
Running Against:
Gina Russo