Candidate Profiles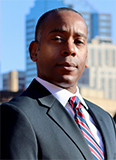 Magistrate Mike McAllister

Candidate for:
Franklin County Municipal Court
Undergraduate Education:
Indiana University, Bloomington, School of Public and Environmental Affairs with a Concentration in Management
Legal Education:
Capital University Law School J.D.
Legal Experience:
Magistrate in the Juvenile Court of Franklin County Court of Common Pleas and Domestic Relations, Associate Attorney at Cooper & Pennington LPA, Assistant Prosecuting Attorney in Franklin County.
Candidate Statement:
(In response to the question, "Please explain why you believe you are qualified for the judicial position for which you are seeking election.")
I have been on all sides of the courtroom and currently sit on the bench as a magistrate going into my sixth year. I have practiced in most areas of law that have regular contact with the court system including Criminal, Domestic, Juvenile, and Traffic.
Columbus Bar Association
2021 Judiciary Committee Finding:
5 stars (what does this mean?)

Columbus Bar Association Judicial Poll Results:
2021 Judicial Preference Poll
Running Against:
Michael King