Candidate Profiles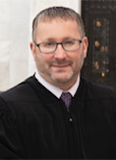 Judge Michael King

Candidate for:
Franklin County Municipal Court
Undergraduate Education:

The Ohio State University, Bachelor of Arts in History, with Minor in English (1997)
Oxford University, England, Summer Program in Comparative Constitutional Law (1996)
Legal Education:
The Ohio State University Moritz College of Law, Juris Doctor and Public Service Fellow (2000)
Legal Experience:
Student Law Clerk, Brunner & Brunner Co., LPA (1998-1999)

Student Law Clerk, Bank One, N.A. (1999-2000)

Judicial Law Clerk to Judge Lisa Sadler, Franklin County Common Pleas Court (2000- 2002)

Litigation Associate, Dinsmore & Shohl, LLP (2002-2012)

Law Director and Prosecutor, Village of Granville (2012-2021)

Judge, Franklin County Municipal Court (2021-Present)
Candidate Statement:
(In response to the question, "Please explain why you believe you are qualified for the judicial position for which you are seeking election.")
Every part of my life has contributed in some way to making me qualified to serve as a Municipal Court Judge.

My dad lost his job as a truck driver in Toledo when I was ten years old. In the years that followed, my family experienced poverty, alcoholism and domestic violence. I remember hiding in closets with my brothers when our parents fought, and I remember being evicted when we lost our home. I started my first regular job at 13, working evenings and weekends at a local tavern doing everything from stocking coolers and changing beer kegs to cleaning bathrooms and sweeping floors.

I played sports year-round, as much to keep from going home as anything, and I became a successful athlete. I was also a good student, and I was fortunate to have great public schools and a handful of teachers who took an interest in me and made sure that I would have the opportunity to go to college.

I attended Ohio State full time as an undergrad while also working full time at the Hyatt on Capitol Square in valet parking, and I did well enough to spend a semester at Oxford and to be accepted into the Moritz College of Law at Ohio State. While in law school, I volunteered as a guardian ad litem for kids in abuse and neglect cases, earning the designation of Public Service Fellow with my law degree.

I carry the disappointment of a failed marriage but the joy of an amazing son, who also graduated from Ohio State and now serves as a pilot in the Air Force. I recently remarried and am enjoying a second opportunity to be a dad and mentor to an amazing young person.

My parents are both gone now, but I continue to learn from them and the challenges they faced. What I've learned is that life isn't easy for any of us, but with a little help and a lot of effort we make it better.

Professionally, I served as a municipal law director and prosecutor for almost ten years and I worked in a small office of a large law firm for ten years before that. Combining those two experiences with my two-year judicial clerkship, I have probably seen just about every kind of legal issue at one point or another in my career so far. I have tried dozens of cases, and am one of probably a handful of attorneys who have tried a case from every perspective---as prosecutor and as defense counsel on the criminal side, and as plaintiff and defendant on the civil side. I've had bench trials, jury trials, state court trials and federal court trials. I even sequestered two death penalty juries during my judicial clerkship.

The sum of my life experiences allow me to bring all of the essential qualities of a good judge to the bench: A strong work ethic; a love of learning; patience; empathy; a solid understanding of the law; a sense of humor; and a commitment to public service.
Columbus Bar Association
2021 Judiciary Committee Finding:
5 stars (what does this mean?)

Columbus Bar Association Judicial Poll Results:
2021 Judicial Preference Poll
Running Against:
Mike McAllister