Candidate Profiles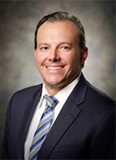 Andy Miller

Candidate for:
Franklin County Common Pleas Court, General Division
Undergraduate Education:
Bachelor of Business Administration in Finance, magna cum laude, Ohio University, 1998
Legal Education:
Juris Doctor, summa cum laude, The Ohio State University, 2001
Legal Experience:

Senior Litigation Attorney, Columbus City Attorney's Office, 2009 - present
Visiting Assistant Professor of Law, South Texas College of Law, 2008 - 2009
Visiting Assistant Professor of Law, Loyola University New Orleans College of Law, 2007 - 2008
Adjunct Appellate Advocacy Instructor, The Ohio State University, 2005 - 2006
Litigation Associate, Squire, Sanders & Dempsey, LLP (now Squire Patton Boggs), 2003 - 2007
Clerk, The Honorable George H. King, U.S. District Court for the Central District of California, 2002 - 2003
Clerk, The Honorable Reynaldo G. Garza, U.S. Court of Appeals for the Fifth Circuit, 2001 - 2002
Candidate Statement:
(In response to the question, "Please explain why you believe you are qualified for the judicial position for which you are seeking election.")
Since my very first day of law school, I have been in love with the law itself - not just as a profession or a means of earning one's living, but as a practical philosophy that forms the foundation of society. My love of the law has led me to a wide variety of legal experiences during my career, and from each of those experiences, I have gained a deeper and more meaningful sense of what the law is and how it serves us. I know the law, and I know it well. I learn new concepts quickly, and I have a strong knowledge of both procedural and evidentiary rules. Still, I remain an eternal student of the law. Whatever the task at hand (e.g., serving a judge, teaching a class, writing an article, drafting a motion, arguing an appeal, trying a case, etc.), my major objective has always been to perform that task to the best of my ability and to perform it better than I have ever performed it before. This pursuit of perpetual improvement has given me many sleepless nights and anxious hours, to be sure. Still, it has made me the lawyer I am today, and it has brought me a great deal of success and personal satisfaction.

Since joining the Columbus City Attorney's Office in 2009, I have also found a sense of honor in serving the public service. There is a distinct pride in knowing that one's time and one's effort are being spent toward a public good, and I have grown to love that as much as I love the law itself. Further, I have a tremendous respect for the law and its role in our society. I know the important role our courts play in our democracy, and I am acutely aware that public service is both an honor and a burden.

While I am qualified by my knowledge, skill, experience, training, and education to be a Judge on the Franklin County Court of Common Pleas, it is my genuine love of the law and my passion for public service that make me ideally suited for this particular role.
Columbus Bar Association
2020 Judiciary Committee Finding:
Not Recommended

Columbus Bar Association Judicial Poll Results:
2020 Judicial Preference Poll
Running Against:
Hon. Jenifer French