Candidate Profiles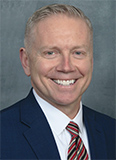 Scott Kirschman

Candidate for:
Franklin County Municipal Court (Environmental Division)
Legal Education:
OSU, Moritz College of Law 1988
Legal Experience:
Over 26 years courtroom experience, helping victims of crime through the legal system, everything from speeding tickets to aggravated murder cases. Handled high-level civil matters while working in a large law firm, from chairing a massive document production as part of a shareholders' derivative action to legal memos on the actual Ohio/Kentucky border (it's in the middle of the Ohio River).
Candidate Statement:
Judges matter. Citizens deserve to have judges with actual courtroom experience. I work hard, from a place of collaboration and listening. The Environmental Court is a unique docket, focusing on the quality of life for all residents, from animal abuse to abandoned buildings. What happens in the Environmental Court affects all neighborhoods. I have the creativity, empathy, engagement, and demonstrated experience for the job.
Columbus Bar Association
2021 Judiciary Committee Finding:
4 stars (what does this mean?)

Columbus Bar Association Judicial Poll Results:
2021 Judicial Preference Poll
Running Against:
Stephanie Mingo