Candidate Profiles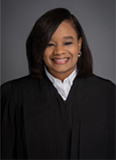 Judge Stephanie Mingo

Candidate for:
Franklin County Municipal Court (Environmental Division)
Undergraduate Education:
Bachelor of Arts in Political Science, The Ohio State University, 1996
Legal Education:
Juris Doctor, Capital University Law School, 1999
Legal Experience:

Elected to the Franklin County Municipal Court Environmental Division to fill the expired term ending January 2022
Appointed to the Franklin County Municipal Court Environmental Division by Governor John Kasich, in December 2018
Assistant Prosecuting Attorney, Franklin County Prosecuting Attorney's Office (2017-2018)
Assistant Chief Legal Counsel, Ohio Auditor of State's Office (2011-2014)
Attorney, The Law Office of Stephanie Mingo Miles, LLC (2008-2011)
Candidate Statement:
All of us as public servants have the same calling-to serve our community to the best of our abilities. Judges are unique in that not only are we charged with serving the public but we also have the authority to carry out life changing decisions. I can think of no greater purpose than to spend every day administering justice and seeking to better the lives of the people who come before the court and citizens of my community. Additionally, the Environmental Division provides the opportunity for me to be influential by way of justice where housing, safety and quality of life are concerned. These matters resonate with my past life experiences and it is important that justice be complemented with real life experience. Be it professionally, personally or spiritually, hardship and perseverance have been the twins of my life. A commitment to progress has given me perspective and maturity and this has allowed me to mark success in my endeavors.
Columbus Bar Association
2021 Judiciary Committee Finding:
5 stars (what does this mean?)

Columbus Bar Association Judicial Poll Results:
2021 Judicial Preference Poll
2021 Judicial Performance Poll
Running Against:
Scott Kirschman