Candidate Profiles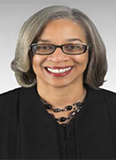 Judge Terri Jamison

Candidate for:
Tenth District Court of Appeals
Undergraduate Education:
Franklin University, Bachelor of Science in Business Administration, Minor in Human Resources Management
Legal Education:
Capital University Law School (Juris Doctor)
Legal Experience:

Judge: Franklin County Court of Common Pleas, Domestic Relations Division - Juvenile Branch
Intermittent Hearing Officer - State of Ohio, Bureau of State Hearings Administrative Unemployment Appeals
Jamison Law Offices, Co. LPA - Focus in Criminal, Domestic, Juvenile and Probate Law
Asst. Public Defender - Franklin County Public Defender's Office in the Municipal Division
Candidate Statement:
(In response to the question, "Please explain why you believe you are qualified for the judicial position for which you are seeking election.")
I bring a variety of practice experience in several areas. I am an adjunct professor at Capital University Law School and consider myself to be a student of the law. I love to research, look for new case law, and keep abreast of the decisions issued and the impact to our community. I have the temperament that a jurist should have and do not rule based upon my personal views but, I issue opinions solely based in law.

I will bring diversity to the Court of Appeals where in the 217-year history of Franklin County has had 2 minorities. As a member of the legal community, we are the Keeper of the Scales. If there is no balance in diversity, mindset, or experience, you continue to have homogenous decisions that do not reflect our current society.
Columbus Bar Association
2020 Judiciary Committee Finding:
Recommended

Columbus Bar Association Judicial Poll Results:
2020 Judicial Preference Poll
2020 Judicial Performance Poll
Running Against:
Hon. Lisa Sadler