Candidate Profiles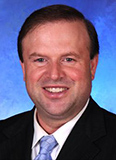 Judge Robert G. Montgomery

Candidate for:
Franklin County Probate Court
Undergraduate Education:
Bowling Green State University, B.A.
Legal Education:
Capital University Law School, J.D., graduated with distinction
Legal Experience:
Judge, Franklin County Common Pleas Court, Probate Division, January 1, 2010 to present; Private law practice with concentration on business planning, advanced estate planning and real estate law, 1997 to 2010.
Candidate Statement:
(In response to the question, "Please explain why you believe you are qualified for the judicial position for which you are seeking election.")
It's been my honor to serve the public as the Franklin County Probate Judge for the last 10 years. I am one of the highest ranked judges in Franklin County according to the most recent judicial performance poll conducted by the Columbus Bar Association. As Franklin County Probate Judge, I was the only judge in the State of Ohio to receive the Judicial Excellence Award in 2019 from the bi-partisan Statewide Association of Probate Judges. In addition to the Judicial Excellence Award, I have received several other awards for developing innovative judicial solutions. During my 10 years as Franklin County Probate Judge I developed the first public guardian for the State of Ohio, the Franklin County Guardianship Service Board; I created the first of its kind Limited Guardianship for Mental Health Care Purposes to draw attention to the flexibility of guardianships; I implemented the first Outpatient Commitment Court in Franklin County to support individuals receiving mental health care treatment in the community; I instituted the first Franklin County Probate Court Mediation Program to promote resolving contested probate matters outside of the courtroom; I created the first Franklin County Probate Court Resource Center staffed by independent licensed attorneys who assist with small estates and limited uncontested probate matters at no costs to the individual; and I developed the Franklin County Probate Court Good Deeds Program to inform the public about options outside of probate court. My extensive judicial experience uniquely qualifies me to continue as Franklin County Probate Judge.
Columbus Bar Association
2020 Judiciary Committee Finding:
Highly Recommended

Columbus Bar Association Judicial Poll Results:
2020 Judicial Preference Poll
2020 Judicial Performance Poll
Running Against:
Jeff Mackey