Candidate Profiles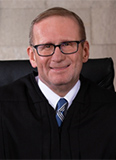 Judge David Young

Candidate for:
Franklin County Common Pleas Court, General Division
Undergraduate Education:
Miami University (Oxford, OH) (1979-1983), BS, Accounting and Finance
Legal Education:
Washington University (St. Louis, MO) (1983-1986), JD
Legal Experience:
I have practiced law for the past 34 years, and have been serving the citizens of Franklin County as a Judge in both Municipal Court and Common Pleas Court for the past 8 years. I have presided over thousands of criminal and civil cases, including jury and bench trials. Prior to being elected Judge, I operated my own law firm as a Trial Attorney for 17 years representing individuals, corporations and organizations in various civil, criminal and corporate matters throughout central Ohio. My practice has been extremely diverse from big law firm corporate transactional work to capital murder defense.
Candidate Statement:
(In response to the question, "Please explain why you believe you are qualified for the judicial position for which you are seeking election.")
I have worked for, worked with and lived with Franklin County voters for over 30 years. I began my family in Franklin County, I worked as Prosecuting Attorney for Franklin County, I dedicated my legal career assisting individuals and companies in Franklin County and I have served the citizens of Franklin County as both a Municipal Court Judge and Common Pleas Court Judge. I have assisted thousands of individuals, companies and organizations with their legal matters and continue to do so every day as a Judge.

I am seeking re-election as a Common Pleas Court Judge to continue to provide the citizens of Franklin County with my diverse real world, judicial and legal experiences. I also believe that commitment to public service is a noble endeavor.
Columbus Bar Association
2020 Judiciary Committee Finding:
Highly Recommended

Columbus Bar Association Judicial Poll Results:
2020 Judicial Preference Poll
2020 Judicial Performance Poll
Running Against:
Michael Cassone