Candidate Profiles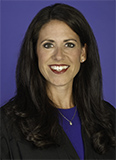 Jodi Thomas

Candidate for:
Franklin County Municipal Court
Undergraduate Education:
Bachelor of Science in Social Work from The Ohio State University (1998)
License in Social Work (LSW)
Legal Education:
Juris Doctor, Capital University Law School (2001)
Legal Experience:

Judge of the Franklin County Municipal Court, April 2016 - present
Staff Attorney at the Franklin County Public Defender's Office Municipal Division, 2002-2016
Attorney Group Leader at Franklin County Public Defender's Office, 2007-2013
Lead Attorney from the Franklin County Public Defender's Office for the Franklin County Specialized Dockets, 2013-2016 (Opiate Extension Program, Alcohol and Drug Addiction Program, Mental Health Court, and the Military and Veterans Service Program)
Candidate Statement:
(In response to the question, "Please explain why you believe you are qualified for the judicial position for which you are seeking election.")
I have spent the last 14 years practicing in the Franklin County Municipal Court which is the same court where I am currently serving as a Judge. My background and experiences working with victims of human trafficking, those suffering from drug addiction and/or mental health disorders, and veterans, prepared me for exactly where I am today. I want to continue to use these tools that I have obtained and apply them to this position. Working in the specialized dockets, I frequently witnessed the powerful role that a judge can play in improving the lives of individuals, while simultaneously improving the safety of our community. I feel I am doing just that in the way I handle the cases that come before me. I work hard each day to examine each case and apply a sentence that is appropriate both for the needs of that individual and the overall safety of the community. I maintain an efficient courtroom and I am accessible and available to attorneys and court personnel. The civil docket is definitely a new area for me, but I jumped right in to learning the cases and presiding over court trials. I am constantly learning and working to be the best judge that I can be. One of my goals will always be for litigants to leave the courtroom believing as though they were treated with dignity and respect, even if they do not agree with the outcome. I am honored to serve the citizens of Franklin County.
Columbus Bar Association
2017 Judiciary Committee Finding:
Highly Recommended

Columbus Bar Association
Judicial Poll Results:
2017 Judicial Preference Poll
Running Against:
Morgan Masters
Keith Nowak