Candidate Profiles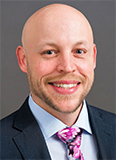 Trent Dougherty

Candidate for:
Franklin County Municipal Court
Undergraduate Education:
Bachelor of Arts in English from The Ohio State University (magna cum laude, 2000)
Legal Education:
Juris Doctorate from Capital University Law School (cum laude, 2005)
Legal Experience:
With my law degree, I chose to dedicate my career to non-profit legal advocacy - putting my passion for a better tomorrow ahead of pursuit of personal fortune.

I helped create the legal department at the Ohio Environmental Council, and for the past 14 years I have led the legal charge for a cleaner, safer, and more just Ohio.
Candidate Statement:
From state court to the Statehouse, and everywhere in between, I have worked for the dignity and fairness of individual Ohioans impacted by environmental and human health injustice - most of the time when those individuals have nowhere to turn. Leading the legal department for the Ohio Environmental Council for the past 14 years, I have been a fighter and problem solver for people; tried, managed, and overseen cases in a variety of courts at the state, local, and federal legal - taking on big-moneyed interests to protect our environment and our children; and worked with diametrically opposed groups and decision-makers to craft solutions that are fair, just, and forward-thinking.

As a public interest lawyer, I have fought to ensure that everyone's rights are respected, and to ensure that nobody takes an unfair advantage. Those same values, experience, and respect for the law are essential for both environmental justice and criminal justice - and are transferable to the issued faced everyday at Municipal Court.

Municipal Court is often the first place where individuals in our community experience the judicial system. People find themselves before the court for varying reasons; yet, no matter the reason, our neighbors expect and deserve their rights respected, their voices and interests heard, and at the end of the day, a fair decision. As a public interest lawyer, I've worked to guarantee individual rights are respected and a voice for all - and I will bring that to the court.

I firmly believe that my unique experience as a career-long public interest lawyer, grounded in the principle of fairness that has guided my career, along with my passion for justice makes me well suited to serve the Franklin County community I call home.
Columbus Bar Association
2019 Judiciary Committee Finding:
Not Recommended

Columbus Bar Association
Judicial Poll Results:
2019 Judicial Preference Poll
Running Against:
Jodi Thomas