Candidate Profiles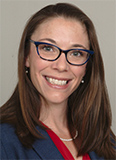 Jessica D'Varga

Candidate for:
Franklin County Municipal Court
Undergraduate Education:
Bachelor of Arts in History, University of Dayton, 2002
Legal Education:
Juris Doctor, The Ohio State University Moritz College of Law, 2005
Legal Experience:
From 2003-2007 I worked for a transactional firm doing contract review and compliance work for car dealerships. In 2007 I transitioned into civil litigation, representing employees in employment discrimination lawsuits and handling consumer protection cases. I finally found my calling when I joined the firm of Saia & Piatt, Inc. in 2010, focusing my practice on criminal defense. I have practiced in several counties in the State, defending individuals charged with misdemeanor and felony crimes. I have handled everything from minor traffic tickets to felony murder trials and have spent almost every day in the courtroom. Now that my practice is thriving, I have been able to begin taking felony court appointed cases, defending those who cannot afford private counsel. I have also been able to help fellow defense attorneys through my work with the Ohio Association of Criminal Defense Lawyers, mentoring young lawyers, instructing at defense bar CLE's, and helping to provide a support network for my colleagues.
Candidate Statement:
Over the past fourteen years, I have seen all the ways in which the system works and all the ways in which it desperately needs fixed. I have practiced in front of fair judges and biased judges, judges that are "tough on crime," and judges who have compassion for a given individual's situation, as if those concepts are mutually exclusive. My clients have been treated both fairly and incredibly unfairly. Regardless of what my client has done or where I am practicing, I have loved being on the front lines of the justice system and working to make that system better.

I know that I can do more good behind the bench than standing in front of it. Especially in the Franklin County Municipal Court, where I have spent the majority of my time learning the ins and outs, the people, and the Court's processes. Most importantly, I've worked with the vast array of Franklin County citizens who come through the court, whether as a plaintiff or defendant, in the civil or criminal arena. It is these people to whom I have dedicated my professional life and I would like to continue to ensure that everyone is treated fairly, equally, with integrity, and compassion. Being a part of our judicial process is an honor. All judges, as public servants, should work hard for the good of the public, uphold the law, and ensure that our justice system is working in the most efficient, fair, and balanced manner possible.
Columbus Bar Association
2019 Judiciary Committee Finding:
Highly Recommended

Columbus Bar Association
Judicial Poll Results:
2019 Judicial Preference Poll
Running Against:
Amy Salerno