Candidate Profiles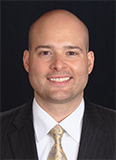 William Sperlazza

Candidate for:
Franklin County Municipal Court (Environmental Division)
Undergraduate Education:
Youngstown State University
Bachelor of Arts, magna cum laude, May 2003
Legal Education:
The Ohio State University Michael E. Moritz College of Law, Juris Doctor, May 2006
Legal Experience:
While in law school I was hired by then City Attorney Richard C. Pfeiffer Jr. as an Intake Counselor at the Columbus City Prosecutor's Office. I went on to work as a Law Clerk and as the Arraignment Coordinator while completing law school.

In May of 2006 I was hired as an Assistant City Prosecutor where I spent five years prosecuting misdemeanor cases in Franklin County Municipal Court.

In April of 2012 I took a new position in City Attorney Pfeiffer's Zone Initiative. It is here where I began practicing extensively in Environmental Court. I have used state and local abatement codes to remove crime ridden hotels, bars, carry outs, massage parlors, and drug houses out of our communities and business districts. All of this work was done in the Environmental Court.
Candidate Statement:
I've spent the past 14 years working and practicing in Franklin County Municipal Court. For the past seven years I have practiced exclusively in the courtroom whose bench I seek; the Franklin County Environmental Court. It is one of the most unique courtrooms in the State of Ohio, and my extensive experience in Environmental Court would serve me well there. I have experienced firsthand what this courtroom means to our communities and business districts. The cases I've filed in Environmental Court have helped shut down the worst hotels, drug houses, bars, and massage parlors in Central Ohio. I know from hard work and experience that this courtroom is vital to the safety and viability of our neighborhoods and businesses. My passion for the Environmental Court has been fostered by the countless cases I have filed and litigated in it; the types of cases that make our neighborhoods safer. Protecting our neighborhoods is my passion, and I hope to continue that mission as Judge of Environmental Court. For these reasons, I ask for your vote on November 5th.
Columbus Bar Association
2019 Judiciary Committee Finding:
Highly Recommended

Columbus Bar Association
Judicial Poll Results:
2019 Judicial Preference Poll
Running Against:
Stephanie Mingo