Candidate Profiles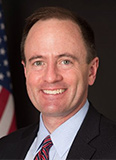 Bill Creedon

Candidate for:
Franklin County Common Pleas Court, General Division
Undergraduate Education:
I graduated from The Ohio State University in 1992, earning a Bachelor of Arts degree in Political Science and minors in Communication and Philosophy of Law.
Legal Education:
I graduated from Capital University Law School earning my Juris Doctorate in 1995. I am licensed to practice law in the State of Ohio, the United States District Court for the Northern District of Ohio, the United States District Court for the Southern District of Ohio, and the United States Sixth Circuit Court of Appeals.
Legal Experience:
I began my legal career as an Assistant City Attorney for the City of Whitehall, prosecuting traffic and misdemeanor offenses in the Whitehall Mayor's Court and the Franklin County Municipal Court. I assisted in the city's efforts to reduce crime by closing down blighted motels along East Main Street that harbored criminal activity. Within days after being sworn in as an attorney, I conducted my first jury trial, successfully prosecuting a defendant for driving under the influence of alcohol.

Next, I worked in private practice, focusing on criminal defense law and representing individuals throughout central Ohio. I conducted numerous misdemeanor and felony jury trials. I developed a strong reputation as an effective trial attorney, defending clients in juvenile court, municipal court, environmental court, common pleas court, and federal court.

In 1999, I joined Franklin County Prosecutor Ron O'Brien's office as an Assistant Prosecutor. I started in juvenile court handling abuse, neglect, and dependency cases, and then moved up to the Grand Jury Unit. I was then promoted to adult felony trial staff. There, I handled a fast-paced jury trial docket, prosecuting felony cases and conducting numerous jury trials including aggravated murder with death penalty specifications, burglary, robbery, felonious assault, theft, and weapons and drug offenses. I then volunteered to join the Special Victims Unit, where I specialized in prosecuting defendants charged with violent crimes against women and children including murder, rape, domestic violence, menacing by stalking, and child pornography. I worked diligently to ensure that victims of crime had a voice in court.

In 2006, I took my legal career in a different direction and focused on civil litigation. I joined the staff of the Ohio Attorney General, representing the Ohio Bureau of Workers' Compensation, the Ohio Industrial Commission, and other state agencies in administrative hearings and in common pleas courts throughout Ohio. I presented oral arguments before numerous appellate courts and handled mandamus cases in the Supreme Court of Ohio.

In 2009, I joined the law firm of Scott Scriven LLP where I currently work. I have developed a private practice representing public and private employers in cases involving workers' compensation, intentional tort, the Occupational Safety and Health Act, the Mine Safety and Health Act, the Federal Motor Carrier Safety Act, the Surface Transportation Act, whistle blower actions, unemployment compensation, wage and hour claims, the Family Medical Leave Act, the Americans with Disabilities Act, wrongful termination, employment discrimination, public records requests, Sunshine laws. In 2016, I won a 4.5 million dollar judgment for a client in a business partnership dispute. I have represented clients before Ohio state agencies, the Ohio Court of Claims, numerous courts of common pleas and courts of appeal throughout Ohio, the Supreme Court of Ohio, the U.S. District Courts for the Northern and Southern Districts of Ohio, and the U.S. Sixth Circuit Court of Appeals.
Candidate Statement:
(In response to the question, "Please explain why you believe you are qualified for the judicial position for which you are seeking election.")
In January 2019, Judge Reece, Judge Schneider, and Judge Cain will be retiring from the bench due to age restrictions imposed by the Ohio Constitution. As a result, the people of Franklin County will lose over 70 years of judicial experience and wisdom. Now is not the time, and the Court of Common Pleas is not the place, for judicial candidates with little to no relevant legal experience. The issues that come before the Court of Common Pleas are varied and complex, ranging from whether laws are unconstitutional, to class action lawsuits, to death penalty cases. These issues are too important to our community for judicial candidates to learn on the job. We need judicial candidates whose proven legal experience enables them to immediately step into the courtroom, address these issues, and help compensate for the loss of this vast institutional knowledge. To reduce the loss, we need to elect judicial candidates who have extensive legal and life experience in the Common Pleas Court.

Most attorneys practice either civil or criminal law, but not both, and spend their careers focusing on one area of the law. Their limited experience does not prepare them for the numerous and wide-ranging cases a judge must decide. I believe my unique legal career of over 22 years provides me the best experience to be a judge because I have handled hundreds of civil and criminal cases in courthouses all over Ohio. I have significant experience as a civil litigator in employment law, discrimination suits, workers' compensation claims, whistleblower actions, and business disputes. I also have extensive criminal jury trial experience as a former Assistant Franklin County Prosecutor in the Special Victims Unit, prosecuting violent felons and predators in death penalty, rape, burglary, robbery, theft, domestic violence, drugs, and weapons cases.

I have worked at the many different levels of the justice system. I have represented clients in juvenile, traffic, small claims, municipal, domestic relations, and common pleas courts, and numerous courts of appeal, the Supreme Court of Ohio, Bankruptcy Court, Administrative Law Court, United States Federal District Courts, and the Sixth Circuit Court of Appeals.

I have worked in almost every aspect of the law that would come before a Common Pleas Court Judge. As a result, my relevant legal experience has properly prepared me to become a judge and successfully serve the people of Franklin County. I have worked in both the public and private sectors. I have served at all levels of government as an Assistant City Attorney for the City of Whitehall, an Assistant County Prosecutor under Ron O'Brien, and an Assistant Ohio Attorney General. And I currently serve as the Chairman of the Ohio Public Defender Commission. While working in the private sector, I previously ran my own business as a sole practitioner focusing on criminal defense law and traffic offenses, fighting for justice and protecting individual rights. I currently work in a law firm representing and helping businesses as they navigate the many laws, codes, and regulations governing their operations and affecting their decisions.

Throughout my professional and personal life, I have sought to treat others with respect, listening to their concerns and treating them as I wished to be treated. From a young age as an Eagle Scout, I endeavored to be trustworthy. As a prosecutor in the Special Victims Unit, I treated witnesses, victims, and victims' families involved in emotionally sensitive situations with compassion and empathy in prosecuting society's worst offenders, while focusing on justice by honestly evaluating the evidence in cases and dismissing charges when appropriate. As an assistant attorney general and litigator in private practice, I have advised clients truthfully even if they disagreed with what I believed to be in their best interest. I have always treated judges and their staff, opposing counsel and their clients, with courtesy and professionalism, appreciating our different roles in the justice system while representing my client's interests to the best of my ability.

Most importantly, my experience has taught me that each individual, regardless of who they are or where they're from, deserves respect and dignity, and that every person is entitled to equal access to the justice system and the opportunity to be heard. My experience has taught me that a judge must be fair and impartial, cannot have a political agenda, and must constantly strive to provide justice for all. And these life lessons, learned only through experience, are the reasons why I believe I am qualified to be a judge for the Franklin County Court of Common Pleas.