Candidate Profiles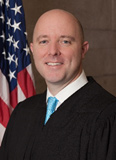 Monica Hawkins

Candidate for:
Franklin County Common Pleas Court
(General Division)
Undergraduate/Graduate Education:
Bachelor of Arts, The Ohio State University
Major: Criminal Justice

Master of Science in Education, The University of Dayton
Legal Education:
Juris Doctor, Capital University Law School
Legal Experience:

Senior Staff Attorney 4, Franklin County Children Services (2005-2012)
Attorney 3, Franklin County Children Services (2005-2012)
Attorney 2, Franklin County Children Services (2005-2012)
Candidate Statement:
(In response to the question, "Please explain why you believe you are qualified for the judicial position for which you are seeking election.")
Experience matters. I, Monica Hawkins, have 23 years public service with government agencies, and I have been a licensed attorney for 14 of those years. I have extensive trial experience and courtroom experience; I have a broad range of knowledge on various legal issues. I am a thorough litigator. I understand the rules of evidence and procedure, and I possess tenacity and insight. I have excellent interpersonal skills, and I have developed relationships with collateral agencies, court personnel, schools, law enforcement, community agencies, and families. I have worked in every area within Franklin County, with various cultures, religions, races, ethnic groups, genders, ages and socio-economic levels. I have worked with the mentally ill, the infirmed, the homeless, the poor, the disadvantaged, substance abuse, and criminals. I, Monica Hawkins, have my hand on the pulse of this community. I, Monica Hawkins, am also well qualified.
I, Monica Hawkins, am a native of Franklin County, a product of the Columbus City School system, and a life time community resident of the south and east sides of Columbus. I am vested in Franklin County. My son, Dionte' Johnson, also a Columbus Public School graduate, attended and played football at the Ohio State University, is also a community resident and leader. Through my years of personal, educational, and professional experience, I have gained an abundance of knowledge, understanding, insight, and discernment that is so diversified that has given me a different perspective on life, human beings, and dynamics in order to be an effective judge. Public service is my calling, not a political appointment for political aspirations.
Columbus Bar Association
2014 Judiciary Committee Finding:
Not Recommended (what does this mean?)

Columbus Bar Association
Judicial Poll Results:
2014 Judicial Preference Poll
Running Against:
Colleen O'Donnell