Candidate Profiles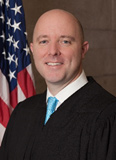 Judge Dan Hawkins

Candidate for:
Franklin County Common Pleas Court, General Division
Undergraduate Education:
Bachelor of Science in Criminal Justice from Bowling Green State University
Legal Education:
Law Degree, The Ohio State University College of Law
Legal Experience:

2013-present: Judge, Franklin County Municipal Court Environmental Division
2003-2013: Director, Special Victims Unit, Franklin County Prosecutor's Office
2001-2003: Assistant Prosecuting Attorney, Franklin County Prosecutor's Office
Candidate Statement:
(In response to the question, "Please explain why you believe you are qualified for the judicial position for which you are seeking election.")
I have a proven record and strong reputation as a fair and accomplished judge, as evidenced by the Columbus Bar Association's poll of attorneys consistently ranking me as one of the highest-rated judges in Municipal Court. It is this record that led a number of attorneys, judges, and community leaders from both political parties to approach me about running for the seat that is currently held by the retiring Judge Charles Schneider.

Prior to taking the bench, I served as Director of the Special Victims Unit for the Franklin County Prosecutor's Office. This prestigious unit is charged with prosecuting crimes of violence against women and children, including homicides, sexual assaults, child abuse, human trafficking and internet child exploitation. I oversaw a staff of six SVU prosecutors and personally conducted over 100 jury trials, including six death penalty cases.

My experience as a Judge and a trial attorney makes me uniquely qualified for the position of Common Pleas Judge.
Columbus Bar Association
2018 Judiciary Committee Finding:
Highly Recommended

Columbus Bar Association
Judicial Poll Results:
2018 Judicial Preference Poll
Running Against:
Carl Aveni