Candidate Profiles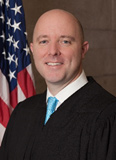 Dan Hawkins

Candidate for:
Franklin County Municipal Court
(Environmental Division)
Environmental Court Judge Dan Hawkins is a lifelong resident of Columbus and graduate of OSU Law School. A former prosecutor, Judge Hawkins believes that clean neighborhoods lead to safe neighborhoods and has worked to expedite cases involving dangerous abandoned properties. He is married and has 3 children.
Undergraduate Education:
Bachelor of Science, Bowling Green State University
Criminal Justice
Legal Education:
Juris Doctor, The Ohio State University College of Law
Legal Experience:

Judge, Franklin County Municipal Court, Environmental Division
(July 2013-present)
Director, Special Victims Unit, Franklin County Prosecutor's Office
(2005-2013)
Assistant Franklin County Prosecuting Attorney, Special Victims Unit
(2003-2005)
Assistant Franklin County Prosecuting Attorney, Grand Jury Division
(2002-2003)
Assistant Franklin County Prosecuting Attorney, Juvenile Division
(2001-2002)
Candidate Statement:
(In response to the question, "Please explain why you believe you are qualified for the judicial position for which you are seeking election.")
The Environmental Division of the Franklin County Municipal Court is a unique branch of our judiciary and therefore I believe requires a unique set of qualifications. During my brief tenure on this court so far, I already see how the skills I developed as a prosecutor over my career have helped me with the decisions that this court has to make on a daily basis. A judge must recognize the power his or her decisions have on not only the parties but the community as a whole. During my time as Director of the Special Victims Unit for the Franklin County Prosecutor's Office, I was responsible for making very difficult decisions that had tremendous impact on people's lives. For example, whether or not to charge someone with a sex offense or a homicide and whether to deprive someone of their liberty by having them arrested were decisions I made on a daily basis.
A judge must also do what is right and follow the law, even when such decisions would be unpopular or controversial. The Environmental Court has exclusive jurisdiction over housing and zoning laws and is under constant pressure to "clean up" the community by issuing injunctions, fining and sometimes jailing property owners who fail to rectify code violations. As Judge of this court, I recognize the need for clean, safe neighborhoods but also make sure all steps are taken to ensure that the property owner's due process rights are strictly adhered to.
I have seen firsthand what a judge can do to effect the lives of people who live in our community. I believe our community expects and deserves a court system that truly seeks justice and judges that are committed to seeing that be done. I am so committed.
Columbus Bar Association
2013 Judiciary Committee Finding:
Highly Recommended (what does this mean?)

Columbus Bar Association
Judicial Poll Results:
2013 Judicial Preference Poll
Running Against:
James W. Adair, III
Frank Macke